Joss Paper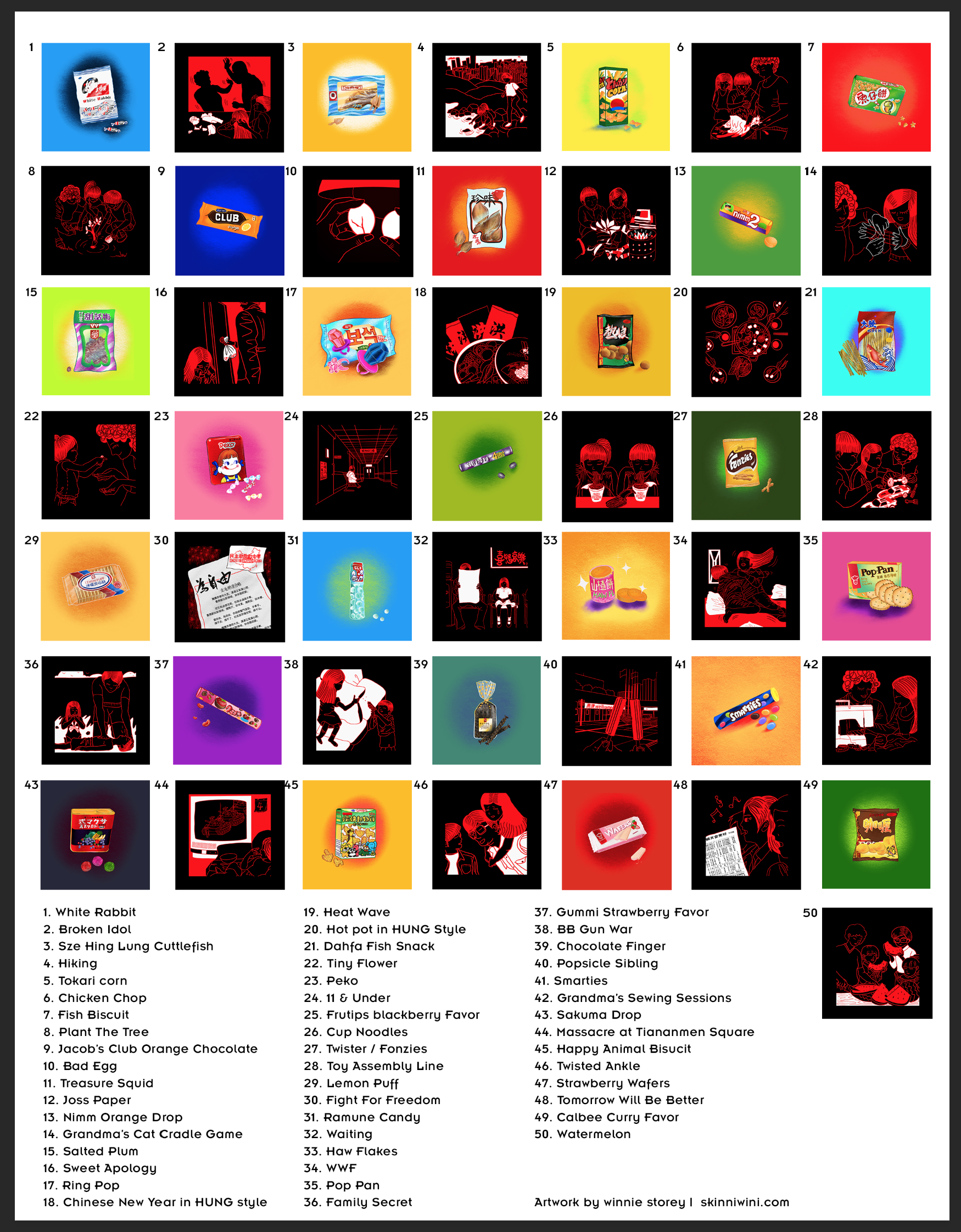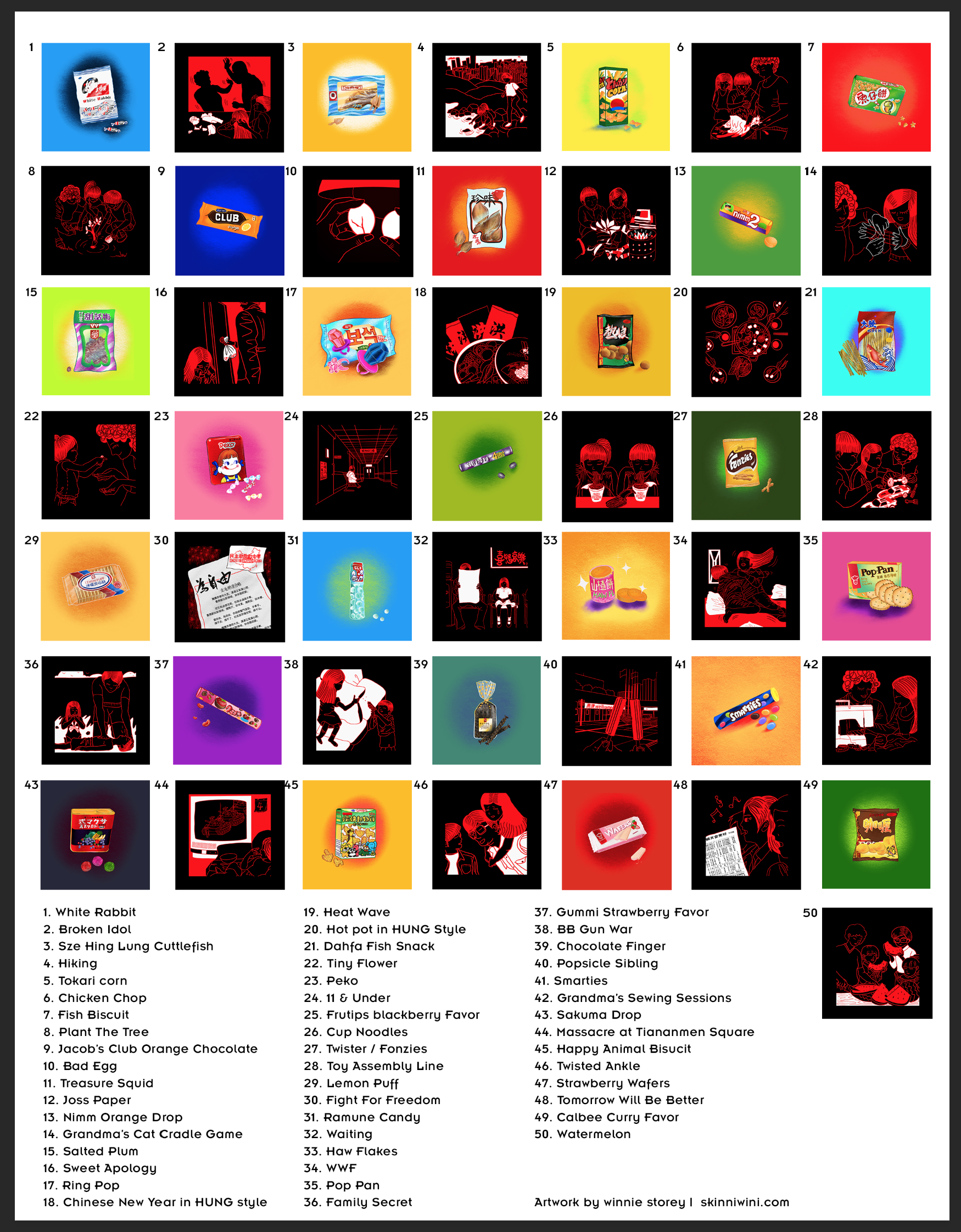 Sold Out
Joss Paper
This is one of the 50 art pieces for Sanchez Art Center's 11th Annual 50|50 Show opening August 30. Curated by Catharine Clark of @cclarkgallery, this show features 3200 works by 65 Bay Area artists who have created fifty 6"x6" panels in fifty days with themes of their own choosing.⁠
Story behind this piece
Joss paper are sheets of paper made into burnt offerings in Chinese ancestral worship. The only way grandma shown love to grandpa was to burnt joss paper to him so he would received in afterlife. As Chinese we believe there is an afterlife in hell which was still need joss paper as the ghost money as a living ghost.
Grandma would burn the ghost money while brother and I folding the joss paper in a particular gold shape symbolized brick of gold. Grandma never expressed the reason why, or how much she missed grandpa, but I know no matter how other treated her, she always reminded the graceful and kindest person I ever met.
Artist Statement
Hong Kong in the 1980s was an era of prosperity. It represented the peak of economic development and creativity. With the population soaring to five million, Hong Kong's British colonial culture, popular entertainment and skyrocketing real estate prices, the city was awarded the title of one of the four Asian dragons in the world. Westerners were beginning to take notice of Hong Kong.
Being born in generation X, I was taught to believe and pursue a free and democratic will. I deeply felt the importance of free trade and a free market economy. I remember that my primary school music class sang songs such as: "For Freedom" and "Tomorrow Will Be Better."
Childhood was bittersweet for me. I grew up in a broken home. My biological mother moved away when I was two years old and eventually she divorced my father. I was a shy girl and my face often turned red when people said hello. I also have an elder brother in the family. Our family included my grandma and father who were living together. Unfortunately they both suffered from paranoid schizophrenia. In my childhood, grandma went to the hospital for psychiatric treatment for half a year. In her absence, there wasn't anyone to cook for us. My brother and I grew up eating cup of instant noodles, canned sardines and spam.
Due to gender favoritism, my father treated me very differently from my elder brother. When I was little, my father's authoritative and overprotective behavior affected me very negatively. He didn't allow me to play or to talk with other children, and as a result I didn't have many good friends.
I spent a lot of time at home with grandma to watching TV and drawing pictures in order to escape from reality. I found inspiration in snack foods and animation, and when I was little, I thought working in commerical world would bring wealth.
Hong Kong was a British colony with global free trade relationships. I enjoyed snacks from three countries: China, Britain and Japan, as well as locally made snacks. I loved the colorful food packaging of these products and their humorous ads.
One of the most profound memories was of my brother and I going to the supermarket to buy cigarettes for my father. My brother was under 11 years old. A pack of cigarettes was only forty Hong Kong dollars, so we would also buy many different snacks for ourselves, such as potato chips, candies, chocolate, and squid. Once we used a total of 99 Hong Kong dollars from a hundred dollars. We got one Hong Kong dollar back.
My father was angry and asked us why we only came back with a dollar. My brother said the reason was extreme financial inflation! His clever answer made my frustrated father who wanted to lose his temper laugh out loud.
The massacre that took place at Tiananmen Square in Beijing on June 4, 1989 became a turning point for my father's decision to send me and my brother to go abroad. When I was fifteen years old, my brother and I were forced to leave home and grandma. Brother and I immigrated to the United States to reconnect with our mother.
I want to share with you fifty of my most profound childhood memories and stories through snacks. I hope that you will enjoy these paintings, as much as I like to paint them.
中文版 Artist Statement
20世紀80年代的香港是一個紙醉金迷的時代一它代表了經濟發達和創造力強的代號。隨著人口飆升至五百萬,香港的英式殖民地文化,中西交融的普遍娛樂和暴漲的房地產得到了國際上人稱亞洲四小龍之一的稱號。西方的外國人開始知道香港的存在。
作為一名在香港長大的八十後,被教導相信和追求自由民主意志,深深感受到自由貿易和自由市場經濟的重要性。我記得我的小學音樂課上演唱歌曲是 "為自由"與 "明天會更好" 等六四歌曲。
童年對我來說是苦樂參半的。我生長於破摔家庭,生母在我兩歲時離家並與父親離婚了。我並不善於溝通和交流,是一個常常臉紅的小女孩。家中還有一個哥哥。一起生活的還有父親和嫲嫲,很可惜他們都患有偏執型精神分裂症。童年有一段時間嫲嫲入醫院接受精神治療,家裏沒人煮飯,我和哥哥都是吃杯麵和礶頭食品長大的。
由於性別偏好,我的成長待遇與我哥哥的截然不同。小時候爸爸的極權和專制影響我很深,他不允許我和其他小孩子一起玩和通電話,估勿論任何好朋友的交往。
我很多時間都在家中和嫲嫲一起看電視和自己畫圖來逃避現實。從電視劇, 休閒食品和動漫中找靈感,而小時候的我認為成為廣告製作的人是可以發達的。
因為當時香港是英國殖民地和自由貿易開放的關係,除了我有口福吃到本地的零食之外,我亦很享受來自中英日三個國家進囗的零食。我喜歡這些產品豐富多彩的食品包裝和其幽默風趣的廣告。
其中深刻的童年記憶是有一次哥哥和我走到超市為我父親買香煙。那年我們都不過十一歲。一包香煙只是四十港圓,而我們會為自己購買許多不同的零食,如薯片,糖果,巧克力, 魷魚絲等。有一次總共用去了九十九港圓,我們只找了一港圓回來。 父親急著責問我們為什麼只有這麼少找續。 哥哥回答說罪魁禍首是通貨澎張! 他聰明的回答讓我原本沮喪而想發脾氣的父親大笑。
一九八九年六月四日在北京天安門廣場發生的大屠殺成為我父親決定計劃送我和哥哥出國的轉捩點。當我十五歲的時候,哥哥和我被迫放棄香港的家-嫲嫲的照顧而移民到美國與生母重新聯繫。
在這裡與你分享五十個我最深刻的童年回憶和零食。希望你會喜歡這些畫作就像我喜歡它們一樣。